Comfort Dental and Braces North Loveland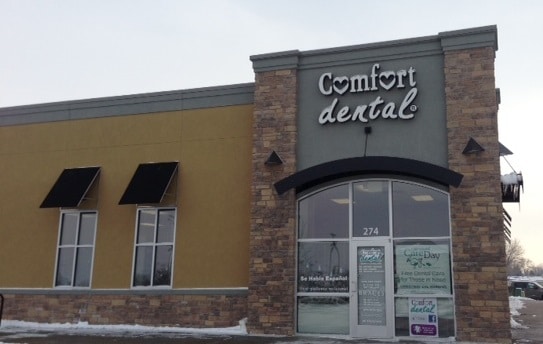 Call (970) 667-0446 to schedule your appointment today!
Comfort Dental and Braces in Loveland, CO, provides the finest dental care for your smile. Dr. Diemer is excited to help you with all your orthodontic needs. Our highly experienced team of General Dentists (Drs Bishop, Luong, Winslow, Kammer) and Dr. Diemer are dedicated to ensuring that you get the best possible care and improving your oral health. His staff also responds to emergency calls for the residents of our community and is accessible 24 hours a day, including dental emergencies. Tele-dentistry is also available, allowing you to communicate with your dentist via a video chat for any questions you may have. Drs. Diemer, Bishop, Winslow, Kammer, and Luong provide modern techniques for all your orthodontic and dental care needs. We use digital x-rays and 3-D digital scanning.

There are many reasons dental care is essential to your oral health. One reason is that regular dental care can help prevent cavities. Dental care is also important to maintain your overall health. It reduces the chances of developing gum disease or oral cancer, major risk factors for other conditions like heart disease and diabetes. While routine brushing and flossing are highly encouraged, visiting a dentist once every six months is highly recommended to ensure your teeth are cleaned properly.

Dental care is also vital to your oral health because it helps you maintain a great smile. With the right dentist and orthodontist, we can help you achieve beautiful white teeth that will improve your confidence and self-esteem. Dental care with our dentists in Loveland is not just about helping you feel better physically but also mentally.

All of our Doctors and staff understand that many men, women, and children fear going to the dentist, so they make it their priority to make each visit as pain-free and anxiety-free as possible. One step they take to lessen their anxiety is to educate the patients about all their oral health care options. With all the options laid out, the Doctors will help guide them to choose the best treatment plan to suit their needs. Several anxiety management modalities are available. Dental anxiety can be managed by psycho-therapeutic interventions, pharmacological interventions, or a combination of both.

Dr. Diemer specializes in Orthodontic treatment, including the most modern technologies clear aligner therapy including Invisalign® and Reveal® Aligners. Drs. Bishop, Winslow, Kammer, and Luong also offers many cosmetic dentistry treatments, such as whitening, crowns, bridges, veneers, and bleaching.

When you visit Comfort Dental and Braces, you can expect to experience dental care that is professional and personable. Dr. Diemer has been practicing orthodontics for over 15 years and is passionate about ensuring your oral health is at its best! Our office offers routine checkups, teeth whitening, dental care services, and orthodontic care services. If you'd like to learn more about the services we provide or schedule an appointment, please call today!
Dentistry: (970) 667-0446
Orthodontics: (970) 203 1821

$19 New Patient Exam & X-Rays (restrictions), convenient hours. We accept most insurances & offer Gold Plan savings.

Braces $99/mo. with Gold Plan only*
No money down
Free consultation

First visit? fill out our intake forms to
save time on your check-in
Meeting the dentist for the first time?fill out our
intake forms and have one less thing to stress about
We are happy to announce we have opened a new location.
First visit? Download our intake forms to
save time on your check-in
No insurance? no problem! sign up for
our discounted membership plan