Comfort Dental Braces Littleton (Southwest)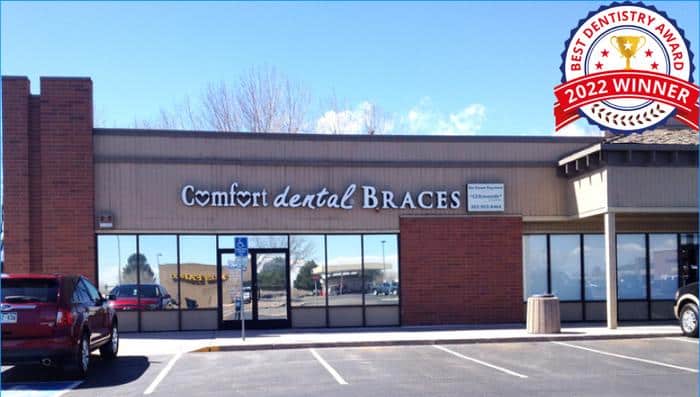 Call (303) 933-8464 to schedule your appointment today!
WELCOME NEW PATIENT!

Our mission is to provide friendly, exceptional orthodontic care that is affordable, and convenient. We welcome you to our Comfort Dental family!

At Comfort Dental Braces Southwest you will be seeing Dr. Mark Stasi for your orthodontic consultation. Dr. Stasi has over 30 years of practice experience in orthodontics, TMJ (jaw joint and facial pain disorders), corrective jaw surgical orthodontics, advanced reconstructive dentistry, and is widely recognized as one of the best orthodontists in Colorado.

Growing up in Iowa, Dr. Stasi knew he wanted to become an orthodontist when he was a young boy. Following his dream he graduated from of the University of Iowa in Biology and Dentistry, and then Saint Louis University Department of Orthodontics and moved to Colorado in 1986.

Dr. Stasi joined Comfort Dental in 2004 as its values of community service, affordable, friendly, personal, quality care and convenience best aligned with his small town personal values and background growing up in Iowa.

Dr. Stasi is a past professor and faculty member at the University Of Colorado School Of Dentistry, Department of Orthodontics, where he taught clinical orthodontics and patient care to dentists training to become orthodontic specialists as well as hundreds of hours of continuing education over the years.

At your consultation, Dr. Stasi will discuss your diagnosis and treatment needs and answer questions. Dr. Stasi will listen to your concerns and help you decide on a plan that addresses your needs and goals individually.

Our staff treatment coordinator will then go over financial arrangements, insurance, and future appointments.

As we strive to provide efficient and affordable care, we can at this first visit today, take recommended orthodontic radiographs (x-rays) to begin your individual diagnosis and treatment plan.

Often, patients can even begin their orthodontic treatment same day!

We normally see patients every 4-8 weeks for your orthodontic visit which allow teeth to move safely and quickly. We always try to accommodate busy schedules with many afterschool visits, however some visits may be during school hours.

Welcome, from Dr. Stasi and Staff

Braces $99/mo. with Gold Plan only*
No money down
Free consultation

First visit? fill out our intake forms to
save time on your check-in
Meeting the dentist for the first time?fill out our
intake forms and have one less thing to stress about
First visit? Download our intake forms to
save time on your check-in
No insurance? no problem! sign up for
our discounted membership plan
We are happy to announce we have opened a new location.